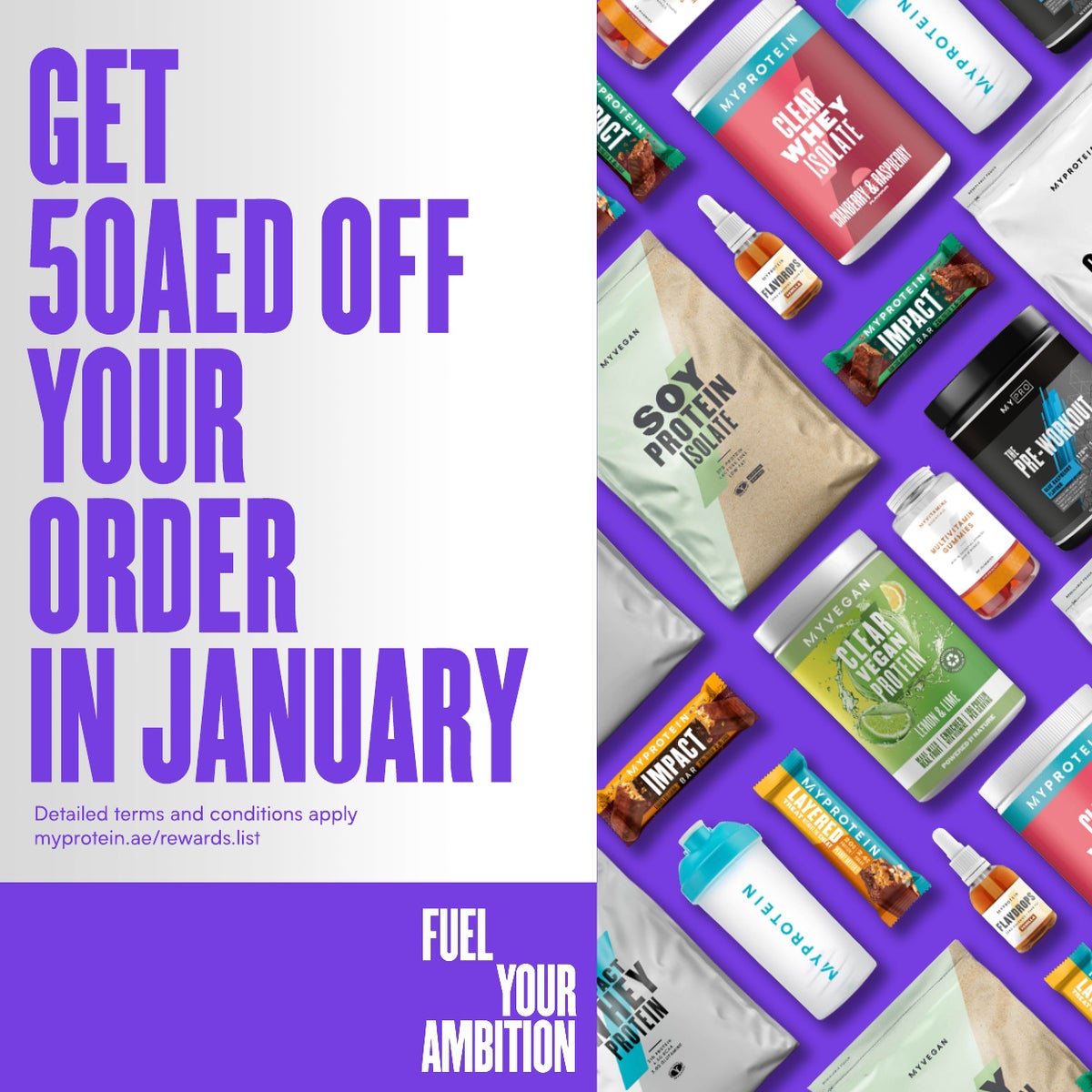 Full Terms and Conditions
Myprotein Voucher Code Reward Promotion Rules ("Rules")
These Rules set out how you can enter for an opportunity to be awarded a Myprotein Voucher Code worth 50 AED by participating in a prize draw available to all qualifying Myprotein customers ("Promotion"). The Promoter is The Hut.com Limited (trading as Myprotein) whose registered office is at 5th Floor, Voyager House, Chicago Avenue, Manchester Airport, M90 3DQ ("Myprotein" or "we").
By entering the Promotion, you are deemed to have read and understood these Rules and shall be unconditionally bound by them. A copy of these Rules shall be available at (https://www.myprotein.ae/) for the duration of the Promotion. These Rules should also be read in conjunction with Myprotein's terms and conditions, available athttps://www.myprotein.ae/customer-services/terms-and-conditions.list.
We reserve the right to amend these Rules without notice from time to time. Any amendment shall be notified to you by email.
How to enter
To be entered into this Promotion, you
(i) must be a new customer to Myprotein who does not have an email address registered and an account created with Myprotein (https://www.myprotein.ae)
(ii) will need to visit https://www.myprotein.ae/rewards.list and provide your valid email address ("Qualifying Entry").
Opening and closing dates
The Promotion will begin at 17:00 [GMT] on 15 December 2021 ("Opening Date") and will close at 23:59 [GMT] on 31 December 2021 ("Closing Date"). Any entries submitted after the Closing Date will not be counted. No responsibility will be taken by Myprotein for any entry that is misdirected, lost for technical or other reasons or received after the Closing Date.
Who can enter and entry restrictions
Only one entry per person.
You must be at least aged 18 years of age (or the age of majority in the jurisdiction where you reside if higher) at the time of entry. The Promotion is only open to residents in France, Germany, Italy, Spain, the UK (excluding Northern Ireland), Japan, Australia, United Arab Emirates, South Korea, the Netherlands, Taiwan and the 50 (fifty) United States and the District of Columbia. Myprotein reserves the right to request proof of age and residency before awarding any prize and to disqualify any entrant who is unable to provide such proof on request.
You are not permitted to enter the Promotion if you are an employee of MyProtein or any The Hut Group company, their direct family member or agent, or if you are otherwise professionally connected with the Promotion.
In entering the Promotion, you confirm that you are eligible to do so and eligible to claim any prize or reward you may win.
Rewards
An eligible entrant may receive the following reward:
Myprotein voucher code reward: All entrants who made a Qualifying Entry will receive Myprotein voucher code into their account worth 50 AED ("Myprotein Voucher Code Reward"). The Myprotein Voucher Code Reward will be emailed to an entrant's valid email address provided on a per unique code basis on 31 December 2021 without further action from the entrant.
The Myprotein Voucher Code Reward can be redeemed at checkout on the Myprotein website https://www.myprotein.ae/ upon placing an order on a qualifying purchase at any time between 4 January 2022 and 31 January 2022 only with a minimum spend of 150 AED. To place an order and to redeem your Myprotein Voucher Code Reward, you must create an account on the Myprotein website https://www.myprotein.ae/ by providing a valid email address and a password. For the avoidance of doubt, no purchase order can be placed without an entrant first having created a Myprotein account. There is no cost to sign-up for a Myprotein account. Your operator's standard data or communication charges shall apply for access to the Myprotein website.
Your Myprotein Voucher Code Reward can be applied to any product available for sale across the Myprotein site. Your Myprotein Voucher Code Reward cannot be redeemed in multiple transactions. All Myprotein Voucher Code Rewards will expire at 23:59 GMT on 31 January 2022.
Each Myprotein Voucher Code Reward is as stated, and no cash or other alternatives will be offered and the Myprotein Voucher Code Rewards are not transferable.
A Myprotein Voucher Code Reward may not be claimed by a third party on a winner's behalf. Myprotein does not accept any responsibility if a winner is not able to take up a Myprotein Voucher Code Reward.
Only 1 Myprotein Voucher Code Reward per entrant and per household.
Except to the extent that Myprotein is prevented by law from doing so, Myprotein will publish the surname and town/county of residence of the Myprotein Voucher Code Reward winners on Myprotein's website and social media pages. If you object to your surname and/or county being published or made available, please contact Myprotein katie.moreton@thehutgroup.com. In such circumstances, Myprotein may still provide this information to a relevant regulator on request.
Disqualification
To receive a Myprotein Voucher Code Reward, an entrant must have complied with and remain in compliance with these Rules. If an entrant does not comply with all of the above requirements within the above time frames, or does not otherwise comply with these Rules, we may disqualify the entrant without any liability to that entrant.
We reserve the absolute right to disqualify without notice any entrants who we consider to have used improper technical means to enter the Promotion and/or we believe have engaged in fraudulent or abusive activities in connection with the Promotion.
Taxes
The Myprotein Voucher Code Reward may be taxable income under the laws applicable to the winners. To the extent permitted by applicable laws, any taxes applicable to the Myprotein Voucher Code Reward are the sole and exclusive responsibility of the winners. The winners are solely responsible for reporting the Myprotein Voucher Code Reward to the relevant tax authorities, and paying all taxes applicable to the Myprotein Voucher Code Reward, as required by the applicable tax laws. Upon request from Myprotein, a winner will promptly complete and submit to Myprotein all tax forms, certificates or authorizations as may be necessary under the applicable tax laws.
Limitation of Liability
Myprotein will not be liable for or accept any responsibility for: (i) any failure by the winner or any entrant to comply with these Rules; (ii) any disruption, delay or misdirection of entries; or (iii) any server, system or network failures, malfunctioning or inaccessibility. If for any reason an entrant's entry is confirmed to have been erroneously deleted, lost, or otherwise destroyed or corrupted, entrant's sole remedy is another entry in the Promotion, if it is possible.
Notwithstanding this section (Limitation of Liability), nothing in these Rules shall be construed to limit or exclude Myprotein's liability for death or personal injury caused by its negligence, for fraud or fraudulent misrepresentation, or for any other liability whose limitation is prohibited by law.
Data Protection
Myprotein collects and uses personal data to conduct the Promotion, as is necessary for Myprotein to be able to perform its agreement with you and in order to comply with its legal obligations, including to select the winners, deliver the prizes and publish the results (as required by advertising regulations).
For further information about how Myprotein collects and uses personal data, please see Myprotein's privacy policy, available at https://www.myprotein.ae/customer-services/privacy-and-security.list ("Privacy Policy").
Governing law and jurisdiction
The Promotion, these Rules and any dispute arising therefrom shall be governed by English law, and the parties submit to the exclusive jurisdiction of the courts of England and Wales.
The above choice of law and jurisdiction does not deprive entrants of the protection under mandatory statutory provisions that cannot be waived under the law which would have otherwise been applicable.
General
All of our decisions will be final and binding and no correspondence will be entered into.
If any provision of these Rules (or any part thereof) is held to be invalid or otherwise unenforceable or illegal, the invalidity or unenforceability of any provisions (or any part thereof) shall not affect the validity or enforceability of any other provision and all remaining provisions (or any part thereof) will remain in full force and effect and shall be construed in accordance with their terms as if the invalid or unenforceable or illegal provision were not contained herein.
The original version of these Rules is drafted in the English language. If these Rules are translated into any other language, the English language version shall prevail.
For help, please contact katie.moreton@thehutgroup.com OR see https://www.myprotein.ae/help-centre.list.